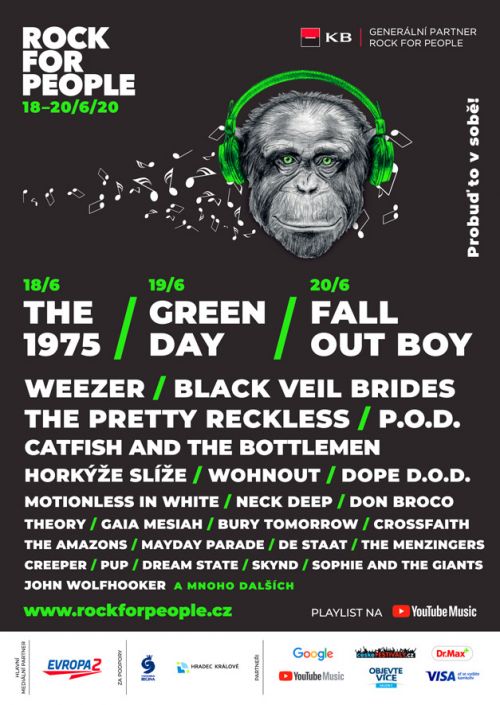 18. 06. do 20. 06. 2020 » další informace
Rock for People je jedním z nejoblíbenějších letních open-air festivalů v České republice. Od prvního ročníku v roce 1995 se festival konal v Českém Brodě a od roku 2007 se přestěhoval do nepoužívaných prostor na letišti v Hradci Králové, kde uvítal mnoho zahraničních, českých a slovenských interpretů.

Festival zahrnuje hudbu v žánrech rock, indie, punk, hardcore punk, metalcore, elektronic, ska, metal, pop, hip hop, drum and bass, dubstep, ale také divadla, diskuse, workshopy, street food zónu, hry a mnoho dalších aktivit.

Předchozí ročníky přivítaly The Prodigy, Muse, Massive Attack, Thirty Seconds to Mars, Arctic Monkeys, My Chemical Romance, Pendulum, Morcheeba, Bullet for My Valentine, Kaiser Chiefs, Faith No More, Bastille, The Offspring, Skunk Anansie, Parkway Drive, The Killers, Limp Bizkit, Chvrches, The 1975, Nero, Netsky, Chase and Status, A Day To Remember, Beatsteaks, Placebo, Ska-P, Manu Chao, Billy Talent, Basement Jaxx, Sum 41, Bloc Party, Static-X, The Hives, Paramore, Enter Shikari and mnoho dalších.